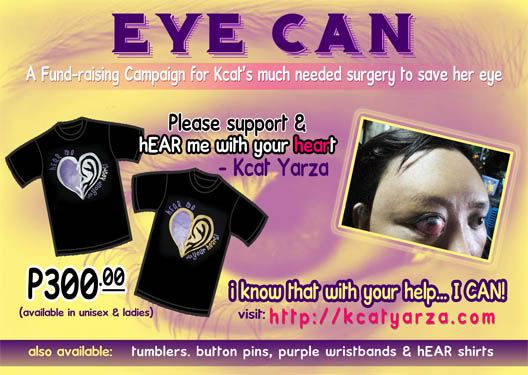 I came across this wonderful lady via the Nuffnang's + Goldilocks' Pagbabago Contest. She was one of the winners + I checked out her entry and left my comment, all the while telling myself what a strong person she is.
Kcat is not what you might call a typical girl in her late 20's, wheelchair-bound, wearing an unusual smirk on her + cannot communicate verbally well (all these is due to Neurofibromatosis Type 2 or NF2, a very rare genetic disorder that causes growth of tumors in the nerves, which she was diagnosed to have when she was 21. Instead of living the life of typical 21-year old, partying + going out with friends, keeping her own job or probably getting maried, Kcat is battling with her rare disease, undergoing surgeries + fighting off total deafness.
What stands out though, is this girl's will to survive + her positive outlook about her sickness + every changes that it entailed in her life + those of the people who love her dearly. I can only imagine how her mum felt having to fight this battle with her child. For some it would've been easy + natural to feel desolate + hopeless, but I love how Kcat overcame her struggles and continue to live + fight to survive. I love how she would beam in here photos, flashing those peace signs,  vibrant + exuding with life.I love how she continue to be a beacon of hope + inspiration to other people.
Today Kcat is fighting yet another battle, in April she has to undergo an open-head surgery to remove an overgrown bone that is causing her left eye to bulge out. In line with this, Kcat came up with a fund-raising drive to raise money to fund her future operation. You can either purchase a button/pin, a purple wristband, tumbler 0r a t-shirt to help her. You can send in your donations for her.
Let us help Kcat in her fight…do visit her site for more info + she is also inviting us to:
Please watch

CHE CHE LAZARO PRESENTS

on ABS-CBN

April 17, Sunday – 10:00 pm