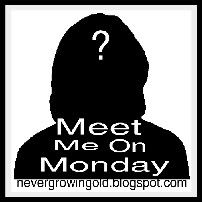 1.  Who would be your dream celebrity date?
2.  Do you have any food restrictions?
3.  How much time do you take to get ready in the morning?
4.  Sausage or bacon?
5.  Do you Google, Bing or Yahoo?
My answers:
1. My one + only answer:
2. No food restrictions really, that explains my very unpleasant weight gain in the past few months.  Although, lately, I've been trying to limit my meat, carbohydrates + sweet consumption, for the better of me. If I can resist, that is! I'd really love to go on a diet, or maybe go back to my vegetarian diet,  if I can be disciplined enough to sustain it.
3. If I will be going somewhere, I'd need an hour to get my son ready (bath, feed, ready his stuffs) + another hour to get myself ready. I only need a few minutes to get dressed + get my hair done, though + I am ready to go. Then add another 15 or 20 minutes so I can eat breakfast.
4. Sausage please. I even want one on my stuffed-crust pizza. Although, a strip or two of bacon, matched with sunny-side ups + tomatoes with rice, can't hurt so bad 😉
5. I Google much, never was a Bing user + I keep a Yahoo e-mail too.
Love + Light,