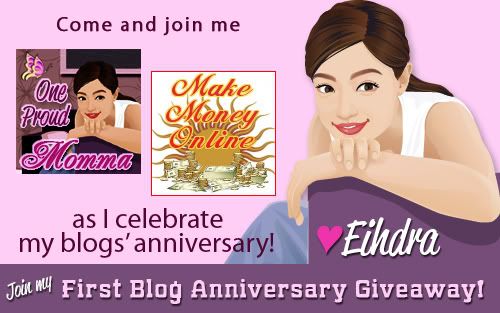 Mommy Eihdra is celebrating the 1st blog anniversary of her Make Money Online and One Proud Momma sites through this awesome giveaway!
The prize include:
Tory Burch bags
Cartier bags
Furano Mango Tops by November
Furano Tops + assorted perfumes
San San make up (consolation prize)
To join, all you have to do is:
Blog about the giveaway, include the list of sponsors + a backlink
Like her pages on Facebook
Subscribed to her feed via email
Follow her blog thru GFC, Twitter + Networked Blogs
Add the giveaway badge to your sidebar
To earn additional points you can also:
Tweet or retweet the giveaway
Share the giveaway in your Facebook status message
Leave comments on sponsor's blogs  (did I tell my son's blog is one of the sponsors? ;))
Thanks to all these lovely sponsors for making this giveaway possible:
My Tot's Exactly * My Tummy Calls * It's All About Me * Just Another Pixel * blankPixels.com * Make Money Online *  Certified Foodies * Notepad Corner * Delectable Ideas * Joy's Flair * Home Buddies * Earning Online * Mike Mamaril * Work At Home Dad * YZ's Little Steps * E.A.S.Y on Yz * Noob Foodie * LEVYousa * Living Life to the Fullest * Designer's Depot
Viva Trips & Tips * House of Maria * Corsame Lane * Pinay Mommy Online * Proud Mommy of Three * The Filipina WHAM * Mom Writes * Heart's Content of a Mama * Love Home Grow Garden * The Jolly Toes * Seasons and Seasonings * Insights of Over 30 Something Creature * My (Second) Hand Philosophy * Really Interesting Projects * Mommy's Joy Ride * A Woman's Shell * Multi-Tasker in Action * Everything Nice * The Misis Chronicles * Health and Beauty Geek *
Make Money Online * One Proud Momma * Samut-Sari * Foodies Galore * Earn Dollars Pinoy! * What's UP?! * Pop Ups of my Mind * Treat your Palate * Cebu News and Events * Travels and Explorations * Everything Alabama * A Woman's World * Brown Pinay * My Point of View * Jared's Little Corner * Pink Memoirs * Topics on Earth
Mom's Ups and Downs * Azumi-Kawaii Princess * Kawaii Princess * Fabbielous Momma * Life of a Filipina Blogger * Mirage * Gracia Fashionista * Travel Sites and Scenes * Momma Helps * Zowanderer * Stylish Voyager * The Journalistic View * Hot Fun Stuffs * Neru Online * Yami Online * My Green Living Ideas
This giveaway is open to everyone with Philippine address + shall run till the 31st of May.
See contest page for details.
Good luck,