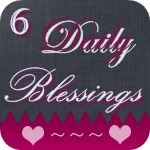 Answer this question and you can be $50 richer by 15 May:
Tell me one thing that you do to stay connected to your children.

As for me, I stay connected with my child by being with him every single day, day in , day out. By playing with him, even if it only includes tickling + chasing him around the house for the mean time, + by sleeping with him wrapped in my arms at night.

6 Daily Blessings is giving away $50 (which can either be thru Paypal or via an Amazon.com gift card), simply answer the question above, follow the blog via GFC + follow several easy-peasy steps to earn extra points. Now, I can really use an extra $50 on my Paypal account, who wouldn't? I can buy some stuffs for Jared or keep it to purchase an Incubus concert ticket in July or deposit it to Jared's trust fund. Whichever, I certainly hope I win! 😉
This contest runs until 15 May + the winner chooses which prize she preferred!
See contest page for more details + good luck mummies 😉