On May 04 I was lucky to get invited to a blogger screening of the movie Fast Five (the fifth installment to the Fast + the Furious series), many thanks to Teleserv for making this event possible. This is one of those few occasions I can leave my son at home (much thanks to his tita who agreed to look after him whilst mum had some night-out fun!)
I arrived in Gateway Mall at exactly 7pm + on my way to Cinema 4, I chanced upon another PMC member, Mommy C5 with her pretty girls in tow. I went on to the registration area, I presented my invite + got my loot bag.
I bumped into another PMCers sis Ning + sis Fehdz (who generously doled out yummy polvoron treats to anyone she sees :) – anyway I'll write a separate post on that!) on my way to the cinema and we queued for the food (consists of Wendy's Burger, Iced Tea + a pack of popcorn!) then had some of our photos taken with the hunk Vin Diesel + Paul Walker in the backdrop.
Before the film started, Teleserv presented a simple + short slide show of how they revolutionize + expedite the process of applying for passports + getting NSO certified documents (like Birth Certificate, CeNoMar or Marriage Certificate) in the country thru their services.
A raffle was also held and quite a number of my mommy blogger friends, including Vance + her mum, Divine + Ning, won. Too bad I didn't win, I was eying the DVD player since ours was busted a few months back. Anyway, it is all good!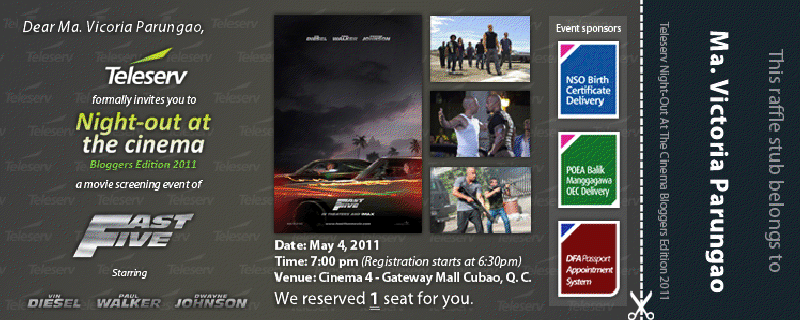 I was never a fan of Vin Diesel nor Paul Walker nor this action-packed film, but I remember how my Papa + my brother, Pj would go crazy about these films of car racing + whatnot.  Even my nephew, Sean, is watching Fast + the Furious when he was just a little boy.  A few minutes into the film + my heart was pumping, hands clammy + pulse racing. It was one heck of a ride, really! The race scenes are all heart-stopping, I enjoyed ogling at the beautiful cars  + I simply love the scene where they had a toast for Dominic's family. Quite touching if you ask me!  I'd say this is an action-packed flick with a heart + I'd recommend it to all my friends for them to see ;)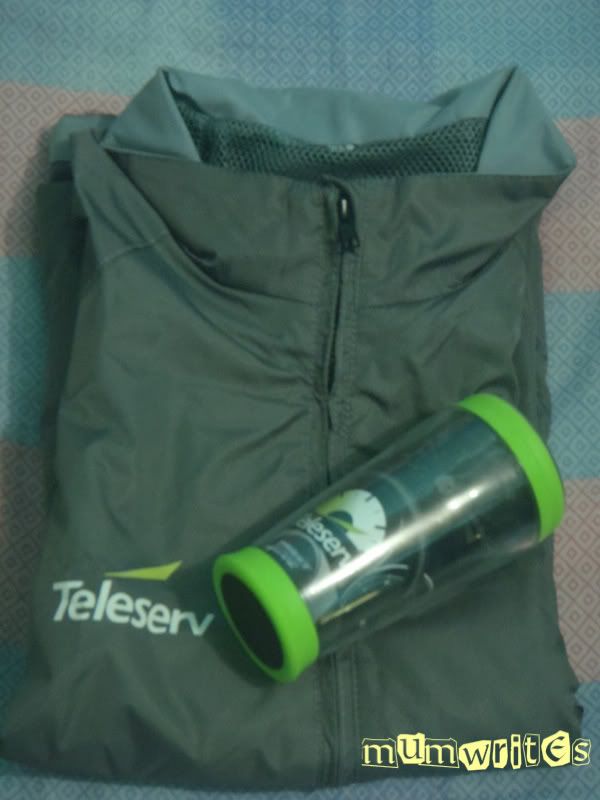 All in all, my night was a blast, I was in good company, watching a good movie whilst munching on my Wendy's sandwich + I even brought home some cool freebies. What more can I ask for really? Thank you Teleserv, till the next event ;)
Love + Light,