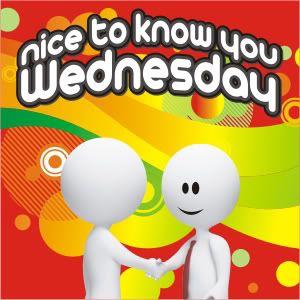 Know thy self.   ~ Plato
Hello, welcome to the first Wednesday of August + welcome to the very first edition of my brand spankin' new meme, Nice to Know You Wednesday.
Here's our 5 interesting questions for the week:
What is your online nickname + how did you come up with it?
What was the last thing on your mind before you sleep last night?
Which are the first 5 songs that play in your iPod when you shuffle it?
What are the last words you tell your children before they dose off to dreamland?
Are you generally happy or sad when it rains?
My answers: 
I was also known as Jared's mum online since I am Jared's mum
That I will be washing my son's feeding bottles as soon as I get up in the morning
Hanukkah, O Hanukkah by Baby Einstein, New Tattoo  by Urbandub, Infatuation by Maroon 5, End of the Road by BoyzIIMen + Sa Wakas by Eraserheads
I always tell Jared that I love him before we go to sleep
Am generally sad + overly lazy when it rains, blame it on my mood depending too much on sunshine, but am just glad I have my very own little ray of sunshine, Ethan Jared to tide me over during the gloomy, rainy months
Now it is your turn + don't forget to include your url post (not the blog url)  in the linky, check here for the badges.  I'm looking forward to reading your entries. Have a Happy Wednesday!