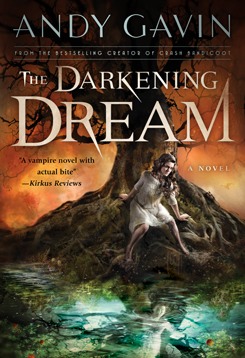 The Darkening Dream, a chilling new dark fantasy novel by Andy Gavin, creator of Crash Bandicoot and Jak & Daxter, that has received rave reviews on Amazon and Goodreads + is FREE for two days only on Amazon Kindle (February 7th to 8th)! Download your FREE copy here: https://amzn.to/yTvZPG
Long-time readers of dark historical fantasy will appreciate the weaving together of mythology, occult, and religion, while younger readers and fans of HBO dramas, like True Blood, or urban fantasy, will be drawn to the twisted imagination, graphic action, and romantic tension.
A vampire novel with actual bite. ~The Kirkus Reviews

…A perfect blend of mystery, magic and myth. A grown-up Grimm's fairy tale…emphasis on grim. ~Amazon Review

With Mr. Gavin's video-game pedigree, I was expecting something aimed squarely at the 18-25 year old fanboy contingent; what I got in The Darkening Dream was something wholly unexpected: A period novel with a female protagonist, a crash-course on Judaism in the colonial years, and multi-layered series of plot arcs featuring a crazy cast of natural and supernatural characters populating 18th Century Colonial America. ~Amazon Review
About The Darkening Dream
1913, Salem, Massachusetts – Sarah Engelmann's life is full of friends, books, and avoiding the pressure to choose a husband, until an ominous vision and the haunting call of an otherworldly trumpet shake her. When she stumbles across a gruesome corpse, she fears that her vision was more of a premonition. And when she sees the murdered boy moving through the crowd at an amusement park, Sarah is thrust into a dark battle she does not understand.
With the help of Alex, an attractive Greek immigrant who knows a startling amount about the undead, Sarah sets out to uncover the truth. Their quest takes them to the factory mills of Salem, on a midnight boat ride to spy on an eerie coastal lair, and back, unexpectedly, to their own homes. What can Alex's elderly, vampire-hunting grandfather and Sarah's own rabbi father tell them? And what do Sarah's continuing visions reveal?
No less than Gabriel's Trumpet, the tool that will announce the End of Days, is at stake, and the forces that have banded to recover it include a 900 year-old vampire, a trio of disgruntled Egyptian gods, and a demon-loving Puritan minister. At the center of this swirling cast is Sarah, who must fight a millennia-old battle against unspeakable forces, knowing the ultimate prize might be her very soul.
Scared enough? You can also read the first two sample chapters here: https://bit.ly/xXVxXS while waiting for your free copy to download! 🙂 Let me know what you think about the book, right?
image courtesy of Andrew Gavin