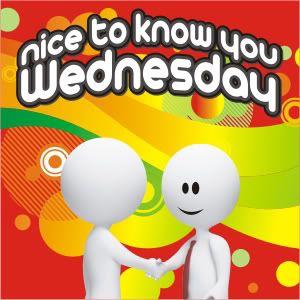 Time again for another round of Nice To Know You Wednesday + before anything else, I would like to thank my 3 participants from last week: Mommy Gagay, Gaylee, + Fe. Much thanks! ^_^
With that out of the way, here are the 5 interesting questions {I hope they will be interesting enough for you to join in
} of the week:
When did you last step outside? What were you doing?

What is the last thing you downloaded onto your computer?

What was the last thing you bought?

Who sent the last text message you received?

What did you do for your last birthday?
I don't know what's gotten into me, but questions about lasts seem like a great set of queries to answer this gloomy Wednesday morning, here are my answers:
We managed to step outside yesterday + catch up with MV Logos Hope before it leaves for Subic yesterday. I shall post about it on my travel blog soon as I got the chance

About a dozen Mickey Mouse Clubhouse episodes that my son is currently absolutely crazy about!

I bought a book, stack of postcards + other souvenir items from MV Logos Hope yesterday.

Jared's dad

For my last birthday, a Sunday, we had a late lunch at California Pizza Kitchen, our first time to eat there. I love the pizza + the pasta, most especially the pumpkin soup, which is also my little man's favorite.
Check here for the simple rules of the game + for other badges, too! I look forward to reading your answers, I also hope you visit the other participants + don't forget to drop your links here