Malnutrition is one of our worries as mums. Proper nutrition is very vital in the growth and development of our children that we put premium in nourishing them with healthy food. Unfortunately, not all mums can afford to do this and a considerable number of Filipino children still suffer from malnutrition. Save The Children recently released their Cost of Hunger: Philippines report. Read on to know more about this report and may we find ways to combat malnutrition, even in our homes and communities.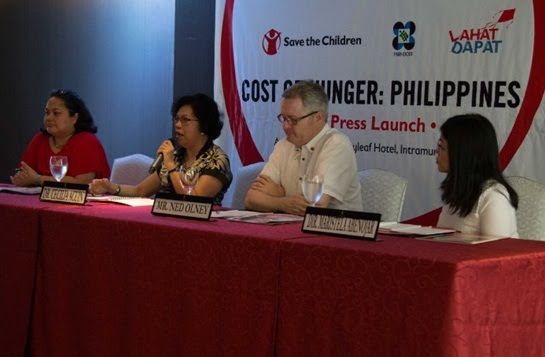 A new report released today by Save the Children reveals that the Philippine economy is losing at least P328 billion a year due to the impact of childhood stunting on workforce productivity and education. Stunting is the most prevalent form of undernutrition, and has permanent effects on a child's growth and development.
The report entitled "Cost of Hunger: Philippines" suggests that, in 2013, childhood stunting cost the Philippines almost 3 percent of its GDP. The overall economic loss of PhP328 billion consists of:
PhP166.5 billion worth of lost income as a result of lower level of education achieved by the working population who suffered  from childhood stunting;
PhP160 billion in lost productivity due to premature deaths among children who would have been members of our current working-age population;
PhP1.23 billion in additional education costs to cover grade repetitions linked to undernutrition.
Ned Olney, Save the Children Philippines Country Director, said:
"This study proves that undernutrition has a cost to all of us. In just a year, Philippines has lost almost 3 percent of its GDP in terms of education and productivity costs due to stunting. If we add up health costs, the likely impact would be an additional 0.05 – 1.6 percent."