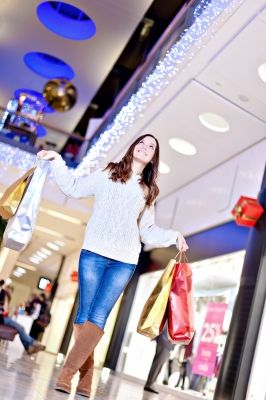 With autumn upon us, Christmas will arrive before we know it. While there are presents to buy and wrap, grand feasts to organize, and family dramas to navigate, make sure you don't overlook your festive photo attire. The memories you capture this season will sit on walls and mantelpieces long after you've carved the turkey! Creating the right image doesn't need to be difficult though; these stylish looks will always impress in your Christmas photos.
Casual Christmas Chic
Think of your favorite photos. Are they the posed ones where you're dressed to the nines, or are they the more casual ones where you're simply enjoying time with your loved ones? If you gravitate toward the latter shots, then a casual Christmas chic look may be for you. This should be a slightly more polished version of the way you present yourself day to day.
If you have a favorite kitschy Christmas sweater or basic blouse you adore, wear it with pride. It'll look great with a dark pair of denim jeans, a more stylish choice than those with a lighter wash. Add some court shoes and a tailored wool or felt coat and you're good to go. A high ponytail or hair left down around your shoulders looks ideal with this outfit.
An Angelic Look in Neutral Cream
Red and green are favorite color schemes for festive photo shoots, but opting for a more neutral hue can be really striking. According to professional photographer Jen Hrycyk, cream is an excellent choice because it stands out like white but looks a little softer when photographed. It also looks striking against common Christmas-themed props such as a roaring fireplace or a tree trimmed with colored Christmas lights such as the retro C7 and C9 lights from Christmas Lights Etc.
A flowing cream maxi dress or shorter lacy shift can look angelic. Let your hair hang loose in effortless boho waves and accessorize with a halo of cream-colored flowers or mini headband.
Go Glam With a Velvet Dress
Although casual looks appeal to many, others feel that their Christmas photographs should be something extraordinary. A Christmas photo shoot is their opportunity to dress up and show off. If you relish the chance to go glam, then you can't beat the drama of a flared velvet gown.
Dresses such as this have been worn for generations, and they speak of old Hollywood glamour — think Rita Hayworth, Bette Davis, or Lauren Bacall. A rich, jewel-toned dress in ruby red, forest green, or sapphire blue will make an elegant and dramatic statement. A pair of kitten heels in a similar shade pair perfectly. Sweep your hair up in a classic chignon to complete this head-turning Christmas look.
With the right clothes, accessories, and hairstyle, you're bound to shine like the star at the top of your tree in your Christmas photos. Consider your own personal sense of style and the clothes you feel most comfortable in to decide which of these stylish looks will suit you best.
Mum's Two Cents
The cold Christmas season is a very good excuse for us to bring out the sweaters and the boots, especially for us residing in tropical countries. It sure is a welcome change from all the comfy tees and ballet flats we have been wearing all year-round. Whatever fashion style you opt for, though, it is always wise to go for what is simple, classic, and comfortable.