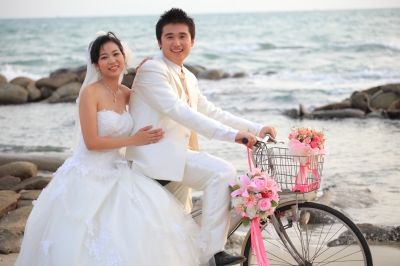 Naturally many brides want to look fabulous and glamorous on their big day but just how 'on-trend' should a wedding dress be?
While many BoHo styles are cutting edge there's also a wave of brave brides opting for dip-dye wedding dresses. These also include celebrities too who have embraced a need to stand out even more with a gown that will catch the eye.
This rise in quirky alternatives is dividing opinion of brides to be, particularly on social media websites where images of brides in dip-dyed wedding dresses are attracting lots of support and interest.
It should also be noted that the same trend is also seeing brides opting for mis-matched bridesmaid dresses and stand-up takeaway-style meals instead of formal three course dinners.
One bride has proudly revealed how she created her unique wedding dress by using airbrush paints on her all-white stylish wedding gown. She also used the multi-coloured approach for her hair and flowers.
Famous singers too have also opted for the dip-dye look while others have chosen a classic wedding dress, for instance, but have it finished in a subtle pink.
New wedding dress designers particularly are looking to stand out from the crowd and they are offering some very impressive and stylish creations utilising dip-dye in a variety of colours along the bottom of the gown itself; mostly these are in a single shade rather than in several colours.
While many brides to be will still opt for stylish designer wedding dresses which have a timeless and elegant look and feel to them, we may have to wait a long time before the new trend of dip-dye wedding dresses really takes hold and for famous designers to join in and offer their own multi-coloured creations.
Indeed, a quick search of various social media websites will reveal the trend is taking hold with some elegant gowns being photographed on Instagram and Pinterest.
It's also worth mentioning that some brides are not just opting for subtle shades of colour in their dip-dye with some offerings ranging from subtle blues to bright orange, for instance. Whichever shade they choose, they all look distinctly original and stylish which is what the bride intends and which is why it's a great way to create a modern and unusual wedding gown.
With brides using social media sites to begin their search for their dream wedding dress and with these dip-dye gowns increasingly being featured in wedding dress magazines, only time will tell as to whether brides in the future will opt for a dip-dye dress rather than a traditional stylish wedding gown.