Disclosure: This is a sponsored post. All opinions are 100% mine, however. 
The Christmas season is upon us again and one of the gifts I would love to give and receive is the gift of health, as well as beauty and wellness. After all, busy mums like us needed all the pampering we could get. Even dads, who are busy whole-year round earning a living for the family, also appreciates a well-deserved pampering time and again.
Of course, these spa or salon gift certificates do not always come cheap that is why I am always on the look out for great deals and online sale whenever I plan to purchase a massage or salon voucher. One of the best places to find these deals are on Groupon and I guess I was in luck as I discovered a number of great Health, Beauty & Wellness Groupons when I decided to check last night.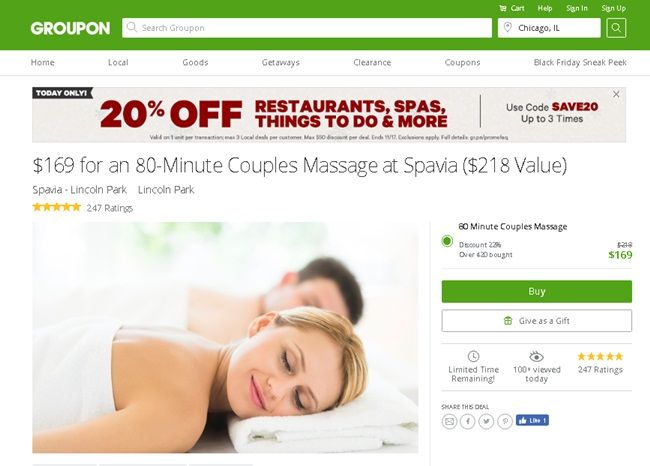 I thought this 80-minute Couples Massage is just perfect for me and Jared's dad as it has been awhile since we've had one and our tired bodies sure could use a relaxing and rejuvenating massage and soon! Valued at $218, this deal sure is great value for money!
Apart from couples massage, you can also find a number of great Groupon deals on reflexology, foot, full body, Swedish, as well as Deep Tissue massages. I am sure any hard-working individual will appreciate these thoughtful gifts this holiday. You can even shop for these deals at a click of a button in the comfort of your own home! Convenience at its finest, won't you agree?
If you are also on the look out for great Groupon deals, you might consider downloading the Groupon Mobile App, so you can be updated with the latest and most awesome deals even while you are on the go.
Which Groupons are you planning to get for your loved ones this season?