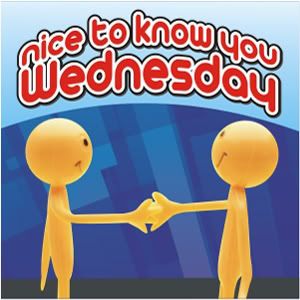 Time for another round of Nice To Know You Wednesdays + this weeks 5 questions is from The 30 Day Challenge which I found here, I have just revised a few questions. Here goes:
Post a recent picture of you + include 5 interesting facts about yourself
What is the meaning behind your Blogger name?
Who is your favorite superhero + why?
What is a habit that you wish you didn't have?
Hare a picture of somewhere you've been to.
+ here are my answers:
1. Here's my most recent picture with my little one. This was taken when we went out to watch The Avengers a week before Mother's Day. We were just clowning + goofing while strolling around the crowd-laden mall. + here are 5 facts about me:
I love reading + even reads the dictionary on my spare time when I was little!

I enjoy going on a stroll in the park with my son to pass the afternoon away

I love collecting postcards + key chains from everywhere!

I have never ridden a plane in this lifetime + would love to do it very soon!

I do not know how to swim + would love to learn the skill