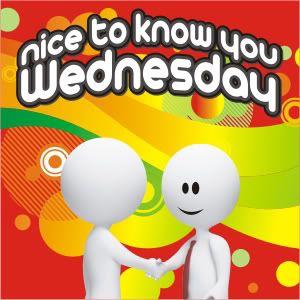 Nice To Know You Wednesday has been on an unplanned hiatus for a while now, I planned to revive it just in time for February, but I guess I have been quite preoccupied with home chores + childminding that I was not able to find the time to post one. Oh well, am only too glad I was able to do so now + hopefully a lot of you will join us again for another round of NTKYW q + a! 🙂
By the way, all the participants are qualified for a special raffle. What's up for grabs? A Diamond Peel Gift Certificate at Diana Stalder worth Php1,000 {for Metro Manila residents}. All you have to do is link up in this week's Nice To Know You Wednesday + sign up using the Rafflecopter widget below + you qualify! Easy-as-pie! 🙂 For international participants, don't you worry, I have a surprise for you next week 🙂
Now on wit our 5 questions for the day:
1. How's 2012 been treating you so far?

2. What's the latest thing you got in the mail?

3. Mums like us can be very busy + would almost always have a hard time finding time for ourselves, so what have you done for your "me-time" lately?

4. What is the last thing you bought for yourself just because?

5. Received any good news lately?
My answers:
2012 is treating me very kindly. Apart from the regular hectic day at home + the occasional mum-tantrum, February is turning out so well + I hope the rest of the year will be the same.
The latest thing I received from the mail is the watch I ordered early last month from an online groupon site, which I will blog about soon 🙂
For my me-time, I finished "Eat, Pray, Love," the book I set out to finish last month. It seemed like an impossible task, but I managed to squeeze it into my day-to-day activity + finished it just in time. I will post a review about it, too! I am now in my book for February, "Safe Haven," by Nicholas Sparks + I cannot wait to finish it! I am also lining up having a haircut + a manicure/pedicure session for my next me-time 🙂
Last month I bought a few paperbacks, just because I love buying books + collecting them. I am also collecting Sophie Kinsella's Shopaholic series + I am happy to note that I am only 2 books away to completing it! Well, okay, I also happen to win a $25 e-bay GC, which made those book purchase possible!
The best news I received lately is courtesy of the recent pr updates by Google, + what do you know, this mum blog is now pr3! Woot!
Now, wait for the Raffecopter widget to load, so you can join our giveaway 🙂