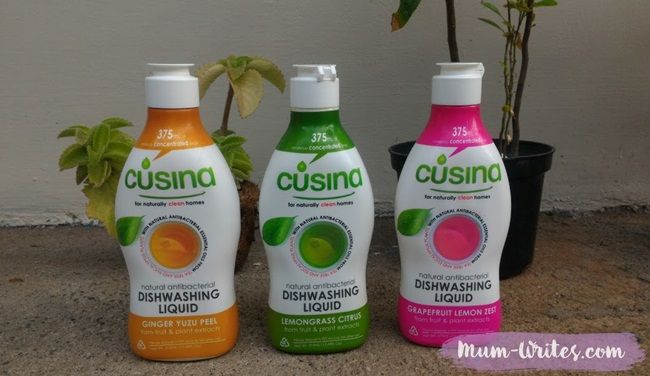 This is a long overdue post and has been sitting on my "Drafts" folder for months now. I am glad I finally managed to publish it. Read on to know more about this all-natural dishwashing liquid that this green mum is raving about!
I have always loved natural and earth-friendly products, they are not only safe for my little man but also for the environment and our planet. That is why I was thrilled when I got this package from Cusina Dishwashing Liquid containing samples of their dishwashing liquid trio.
Cusina Dishwashing Liquid comes in 3 variants in vibrant 375ml bottle:
Ginger Yuzu Peel ~ Slightly sweet and citrusy, with floral note from the Japanese yuzu fruit, and a spicy yet soothing hint from ginger make this a delicate scent that promotes tranquility
Lemongrass Citrus ~ a first whiff reveals a familiar lemon scent. But then again, like discovering a new favorite song, in comes a mid-note of stimulating citrus with an energizing minty lemongrass finish.

Grapefruit Lemon Zest

~ like your cheery fun-loving friend, Grapefruit Lemon Zest's scent is there to brighten your day with uplifting top notes of fresh pink grapefruit and a clean, crisp lemon zest end.
Cusina Dishwashing Liquid is very effective in removing dirt and hard-to-remove grease. I also love how it leaves plates, pots, and pans, as well as those microwaveables {which are so tricky to wash} squeaky clean after each wash. It is also effective in removing odors from the hands, especially after peeling garlic and onions or preparing meat and fish dishes, so I always wash my hands with Cusina Dishwashing Liquid after working in my tiny kitchen. And because it is made of concentrated liquid, just a few drops of Cusina goes a long way! Among the 3 variants, I love Grapefruit Lemon Zest the most because grapefruit and lemon are two of my most favorite fruits and scents. [Read more…]