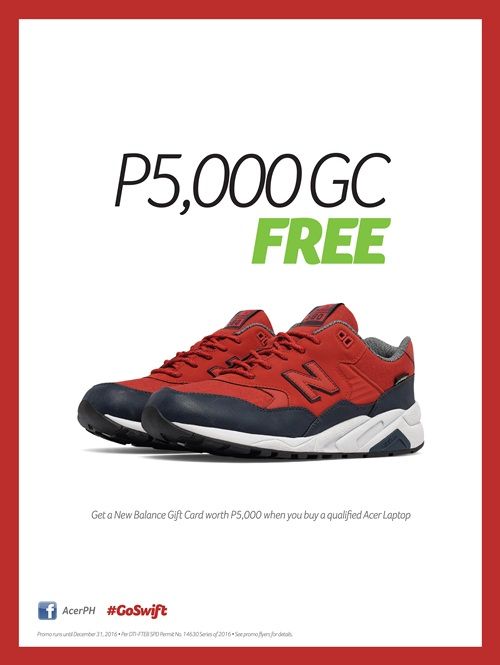 With all the presented options nowadays, people's choices when it comes to color, favorite apparel, design, even with gadgets has become so diverse that it became difficult to achieve just the right balance.
But worry no more for Acer brings the best holiday promo deals at everyone's doorstep. An unexpected collaboration, Acer banded with New Balance, a Boston, Massachusetts-based athletic footwear and apparel manufacturer and one of the world's best and most recognizable brands, so today's generation can #GoSwift, be more sharp in their decision making, and help them get a quick grasp of their aspirations.
"Today's generation of professionals are quick thinkers, loves to multitask, move swiftly and waste no time to reach their dreams. It is but fitting that for this holiday period, we give our loyal Acer users the necessary tools they'd need to achieve their desires in life the fastest and swiftest way possible," says Acer Philippines Sales and Marketing Director Sue Ong-Lim.
"It's nice for a change for New Balance to partner with a giant tech company such as Acer. Like Acer, we also strive to make people achieve their dreams through our innovative products, the same philosophy that Acer propagates. We hope that with Acer, we can help today's generation achieve their own goals as well," explains Nathan De Guzman, Marketing Lead, New Balance Philippines.
Reach your dreams in the swiftest manner by buying qualified Acer products until December 31, 2016 at participating stores nationwide and get a New Balance Gift Card worth P5,000 absolutely free.
The qualified Acer products include laptops, particularly the Acer Swift "S" series like the Swift 3, Swift 5 and the Swift 7, touted as the world's thinnest and trendiest laptop. Other qualified laptops include those with either i5 or i7 Intel family of processors {S13, S7, Spin 3 and Spin 7}. [Read more…]