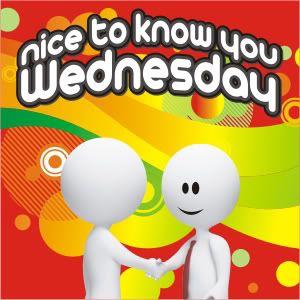 It is the mid-week + how's this day treating you so far? I, for one is swamped, I've got loads of posts to work on + a few things happening on the side. My toddler has started his swimming lessons yesterday + I am so stoked about it. Will share it with you soon enough 😉 A number of giveaways are also in the brew + I do hope you all stay tuned for that. Anyway, I do not want to keep you, here are the 5 questions for this week's Nice To Know You Wednesday:
What's on your calendar for tomorrow?

What's inside your bag?

Where is a great place to get breakfast?
What is your favorite ice cream flavor, chocolate, vanilla, or strawberry?
If you could tell the world just one thing, what would you say?
My answers:
1. I have not really booked anything for tomorrow as I have kept the next 2 weeks free to make time for my son's swimming lessons. This is the first time he enrolled in a class + I am as equally thrilled! I shall write a lengthy post about it, with tips on what to get your toddlers to gear up for swimming lessons, later on. 😉
this was how my diaper bag looked like a year ago!
2. On a regular day, my bag, which also doubles as a diaper + carry-all bags, contain my wallet, sunglasses, my digital camera, my Thermos flask, + a wide array of toddler supplies including: an extra change of clothes, extra diapers + baby wipes,  a couple of feeding bottles, baby powder + hand sanitizer. I cannot go out of the house without them, especially if the little man is with me, so don't be surprise if you see me lagging that extra big bag the next time we bump into each other! 😉
3. One of the best places to get breakfast is McDonalds! I miss their pancakes + the hash browns together with a hot cup of chocolate, which reminds me, I have a pack of frozen hash browns in the freezer waiting for my attention. I shall thaw some + cook a batch for tomorrow's breakfast 😉
4. I cannot decide between strawberry + chocolate, it is a good thing I can have both, with Vanilla, too, in the tub my sister bought for us last weekend. A perfect + affordable way to beat the scorching summer heat, won't you agree? 😉
5. I'd probably say there is too much negativity around us already + we can probably lessen that by being a little more kind, sensitive + attuned to each other's feeling + emotions! If we can all have the same thinking, this world will be a much better place for all of us to live in! 😀
Your turn to share your thoughts, for the rules + the badges do check them out here + please visit as many participants as you can to make our little game a little more fun! Enjoy the rest of the week! 😉